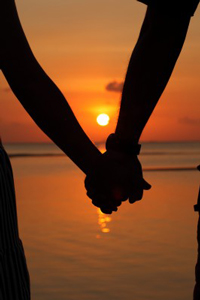 With so many dating sites available from which to choose it can be overwhelming when you want to know how to find the best online dating service. In fact, you might have difficulty deciding which dating service or site to use.
It's just not a matter of which site to choose but also the features each site offers and whether they will help you in your search for a guy.
Top of your list should be whether your privacy is protected, what search methods are available, and how easy it is to contact someone.
As well, pricing should be a consideration – you don't want to pay for services you don't use and you don't want to spend more than necessary since you won't use the dating service once you've found a guy you're interested in.
Plus, you don't know how long it will take to find a great guy. Sometimes you'll be lucky and find one almost immediately. Other times it could take weeks or even months before you find someone you're interested in.
Here are some features to check out when considering an online dating service:
Quick and Easy Registration
Most dating sites offer free registration.
Some will allow you to communicate with other members for free – these are the true "free dating sites."
Plenty of Fish is one free dating site that allows free contact between members.
Some sites restrict your access until you fill out questionnaires or post photos. At the time of this writing, two sites that require you to fill out a questionnaire include eHarmony and PerfectMatch.
Chemistry.com and Plenty of Fish have a questionnaire that also helps with matching but is optional to fill out.
HowAboutWe.com has a different approach to online dating. Like many other dating sites it has upgrades that allow you to read all of your messages and send unlimited messages. But its search feature is geared towards the type of date you want rather than finding a particular type of person. (It targets an important matching component – having shared interests.) Plus it also has features for couples, not just singles.
How To Attract Men Table of Contents
What To Avoid Doing On The First Date | Internet Dating Scams | Best Online Dating Services
Do Research Before Signing Up
There are many sites that do online dating reviews. Usually the reviews are unbiased.
But you should be aware that many of the owners of these review sites are compensated if you sign up or pay for a dating service.
A simple search will turn up hundreds – if not thousands – of sites for online dating.
But there are several large, well known sites including eHarmony, PerfectMatch, Chemistry.com, Plenty of Fish, and Match.com.
That's not to say they are the best online dating sites. But they do generally offer a larger pool of candidates to draw upon depending on your search criteria.
There are sites for virtually all types of interests – niche dating sites for pet owners, religion, people into alternative sex, adult dating sites, and sites for short term, long term, and casual relationships including sex and intimate encounters.
Niche sites that cater to specific interests may or may not have a large pool of members depending on their popularity and the specific interest.
Be especially careful of sites that have fake profiles and scammers. Since sites don't ordinarily screen each member, fake profiles are easy to establish since there is no verification procedure.
Profile information – including photos – is not necessarily genuine. It can be completely false and made up to lure you into a false sense of security with the intention to steal your money.
One of the easiest ways to discover fake profiles is to check the grammar. But that's not a foolproof method and even asking pointed questions may not help discover that someone is a scam artist. Some are consummate liars who have successfully bilked women of their money.
This is not to say that you shouldn't use online dating services. It just means you have to use common sense and maintain a healthy skepticism until you get to know the guy better.
Use The Dating Site's Free Trial Service
There's no better way to learn about an online dating service than to actually use it.
If it's a completely free service you'll have immediate access to many of its features.
Some free sites may offer a paid upgrade but for the most part they will provide the basic services including being able to message other members without charge.
Paid sites will require payment before being able to contact other members and/or read their messages. It's important in this case to ensure that the site contains quality profiles of guys you'd be interested in meeting.
Sometimes guys will post their profiles on both paid and free sites hoping to attract a larger number of women so you may be able to contact them on a free site if you happen to come across their profile.
Contact Options
A quality dating service will offer several messaging options including email, instant messaging, and chat.
While it's not necessary to have a lot of messaging options, it is helpful if you're not getting much success from one particular option alone. For example, you may not be getting much response from emailing guys but you might find better response when chatting.
Online Dating Profiles
Reading online dating profiles can be a lot of fun and even entertaining when you read some of the essays prospective boyfriends post.
But first you have to do a search that will narrow down the field. Use the online dating site's matching criteria to begin with. Sometimes you can narrow down the search even more depending on the sophistication of the online dating site.
Most sites have at the very least geographic and age range searches – both of which are vital to your search since you're looking for a guy who is within a certain age range and usually pretty close to where you live.
It's best to cast a wide net to begin with and then narrow down your choices. If you're younger you'll probably find a pretty large pool of guys to choose from ranging in all ages.
Once you've narrowed your boyfriend candidates it's time to check out the profiles. First you'll probably skim the photos to see if anything catches your eye. Then you'll click on specific profiles to look at personal interests and the profile essay to see what brilliant things the guy has to say to entice you to contact him – which for most online dating sites is through anonymous email.
Most sites will indicate specific areas on the profile for religion, whether he wants kids, hair color, and other personal particulars. Some will also indicate a personality type – for example whether he's a night owl or morning person or a book worm or adventurer or supporter.
Be on the lookout for craftily disguised wording with double meanings:
"Loves his work" could mean he's either a workaholic or has a controlling personality.
A "sensitive" guy could mean he's a sissy or is actually sensitive.
A guy with a "sense of humor" could mean he's a bore or he thinks he's funny, even if he's not.
"Looking for a best friend" could mean he really is or maybe he's looking for a sex kitten who is into intimate encounters or a friend with benefits arrangement.
But please don't prejudge or jump to conclusions – which could be wrong. It's only by meeting and getting to know the guy that you will know for sure whether you like his personality and whether you're compatible.
If you prejudge a guy before getting to know him – which many women do – you could be passing on a quality guy who would make a wonderful boyfriend or husband.
And just because he says he has particular interests that don't align with yours doesn't mean you're not compatible.
You don't have to answer questions that you think invade your privacy. Income questions are really no-one's business but your own.
The weight questions are always tricky – you don't want to put a great guy off but at the same time you want to be truthful. After all, there's no point in saying you're athletic when in fact you have a few extra pounds or you're rubenesque. It's usually best to be truthful in the weight category since he's going to find out what your build is if you meet or if you post a full body photo.
One of the usual questions is whether to include a photo or not. Some sites indicate that your success in getting responses will increase by up to 10 times if you include a photo. If you're a very attractive woman you'll find you'll get a lot of responses simply because guys like your photo, not because they've read your profile.
Obviously, people with a photo are more likely to get a response if the photo is flattering and you're attractive. If you're reluctant to post a photo for privacy reasons then indicate you'll send one to those who you think you're compatible with.
Keep in mind that if you don't display a photo some sites will limit their functionality until you do. As well, the issue will come up once you start corresponding with guys because a photo is one of the first things they ask for.
Take a good photo with your digital camera or smartphone. Each dating site has instructions on the file format and size and how to upload photos to your profile. Unless it's an adult oriented dating site there usually are conditions about what photos are acceptable.
Be sure to crop photos with other people in them – especially if you're hanging off the arm of a man (even if he's your son). Where you don't crop photos with men in them, be sure to explain who the man is – your son, your brother-in-law, your brother, your father.
Show photos with head and full body shots as well as those that show you in your favorite activities to give the reader a sense of who you are and what you enjoy doing. Photos don't have to be professionally done studio shots but avoid uploading blurry photos or photos where you have sunglasses on or those where you're so far away no-one can see what you really look like.
How successful you are on an online dating service depends on several factors including quality of profile, size of membership, messaging options, how diligent you are in combing through profiles, and how proactive you are in contacting guys who interest you.
Are You Looking For Your Mr. Right?
Are you tired of being single? Are you looking for the man of your dreams?
If you've been searching for a great guy but you seem to always wind up with losers…
If you're newly single and ready for love again…
If you're divorced or widowed and you want to find a great guy…
Then check out the Girl Gets Great Guy System.
It will show you how to find, attract, catch, and keep a wonderful man.
And, just as importantly, it will help you decide whether he's the man of your dreams.
Click the following link to find out more about the Girl Gets Great Guy System