Many women wonder what to do when their boyfriend can't get an erection. The good news is that there is help if your man is having problems with his hydraulics.
Does your man go soft during sex or have trouble staying hard?
There's nothing more embarrassing or humiliating to your man – and more frustrating to you – than when your man has difficulty getting hard or keeping it up.
In fact, it's one of the biggest complaints and frustrations men and women have about their sex life.
This is entirely different than when your boyfriend or husband has low libido or sex drive and isn't interested in having sex with you at all or the frequency of sex is almost non-existent or you have a dead bedroom.
In the case where he can't get an erection, your boyfriend or husband is eager to have sex with you but he experiences trouble with his erections.
Trouble is, no matter how eager he is to have sex or how attractive he finds you or how much he "wills" himself to have an erection or get it up, it's just not happening.
To a man, having and maintaining an erection is very important to him. Most men want to feel that they're "manly" with their girlfriend or wife in the bedroom. They want to feel and act like an Alpha Male.
If he's unable to have or maintain an erection, not only does he feel he is unable to "perform" but it goes to his very masculinity. He's sees himself as – and feels like- less than a man if he can't get or keep an erection.
It's very frustrating for both of you. And it can lead to less frequent intimacy and sex if the problem isn't addressed.
If you're a very sexual woman, and you like having sex a lot, or you enjoy the closeness and intimacy of having sex with your man, his failure to get hard can be very frustrating and put a strain on your relationship.
You could be in a wonderful relationship. In fact, he could be your soul mate and perfect in every other way. He's romantic. He makes you feel safe. He supports you. He's your best friend. He's attracted to you and treats you like a queen. He's a good provider and a good father if he's your husband and you have children.
But no matter how wonderful he is as your partner, there's always the "hidden" problem when having sex: You and your man never know if he will be able to get an erection so he can "perform" in bed.
It puts pressure on him, increases his anxiety, and he can't approach having sex with you with complete confidence.
That's not to say that going soft during sex is not normal, because it is. But with proper stimulation your man should be able to get hard and stay hard during penetrative sex.
And that's also not to say that you and your man can't be intimate and that he can't bring you to climax without being erect. After all, an erection doesn't automatically mean your man can or will be able to give you the stimulation you need to orgasm.
While there are many reasons why your boyfriend or husband can't get an erection, if your man is experiencing erectile dysfunction, then one of the reasons could be that he's lacking an important ingredient commonly found in certain foods.
This ingredient is a "magic molecule" that helps improve blood flow which is crucial for erections and to experience pleasure – by both of you – during sex.
The "Magic Molecule" Needed For Erections
Your man's levels of this "magic molecule" – Nitric Oxide – diminish as he ages.
It's at its peak when he's in his 20's. But as he ages it decreases so that by the time he's in his 50's or 60's he has a mere fraction of what he had when he was younger.
Low Nitric Oxide production leads to decreased blood flow that's crucial for engorgement and erectile function.
And that can affect his ability to have strong, hard, sexually satisfying erections. (aff)
Without adequate blood flow your man has trouble getting the hard-ons that are needed for maximum sexual pleasure and satisfaction.
Low Nitric Oxide means reduced performance and pleasure – for both you and your man.
When men experience trouble with their erections, they might talk to their doctor. Your man's doctor might prescribe Viagra®, Cialis®, or Levitra®. These are common and popular drugs to help with erectile dysfunction.
Some prescription drugs are known to have dangerous side effects, though. Take Viagra®, for example. Rarely reported side effects of Viagra® include sudden vision loss or sudden hearing decrease or hearing loss, or an erection that lasts more than four hours – for which immediate medical help must be sought.
The most common side effects of Viagra®, for example, include headache, runny nose, back pain, flushing, nausea or upset stomach, dizziness, and other issues that can be found on Viagra's® website. Other ED prescription medications may have similar or different side effects.
What's more, whether your man takes a prescription drug or a supplement for erectile dysfunction, he needs to consult with his doctor.
Your man may be taking medication that would be affected by an ED prescription drug or supplement. Conversely, the medication your man takes might affect how an ED prescription drug or supplement works.
Many men take Viagra®, Levitra®, or Cialis® without any or with only minor side effects or problems.
Supplementation Is One Way To Boost Your Man's Nitric Oxide – The "Magic Molecule"
But some men prefer to turn to "natural" ways to boost their Nitric Oxide, because they prefer a supplement solution and they know how important Nitric Oxide is to their sexual well-being and performance.
One way to help overcome reduced pleasure and performance and improve your man's sex life is to feed him with organic Nitric Oxide instead of taking prescription drugs which may have dangerous side effects or which may affect how your man's existing prescriptions work.
Your man might be able to feed his body from the foods you eat but there's an easier and quicker way: taking a libido boosting and Nitric Oxide boosting supplement.
FLOW Nitric Oxide supplement is made from organic fruits and vegetables and is designed to help with better blood flow, help your man stay hard, and ultimately improve your sex life. (aff)
Click Here To Discover How Your Man Can Help Improve His Sexual Performance And Pleasure
FLOW Isn't Only For Your Man – It's Also For Women
Who Want To Experience Greater Sexual Pleasure
And Enjoy Bigger, Badder, Better Orgasms!
FLOW Nitric Oxide supplement isn't just for men, though. (aff)
It's also for women because a woman also needs blood flow to her erectile tissue, including her clitoris, in order to experience greater sexual pleasure and enjoy better orgasms.
Blood flow is essential to a woman's engorgement and sexual pleasure, too.
If you're like most women, it takes time – and the loving touch of your man – to become aroused. When you become engorged and aroused "down there" you'll experience greater pleasure with your man.
According to trusted sex advisor to millions of people and co-creator of FLOW supplement, Susan Bratton, FLOW helps increase blood flow to your lady parts to give you greater sexual pleasure and also helps improve lubrication.
You can order FLOW Supplement For Women Here (aff)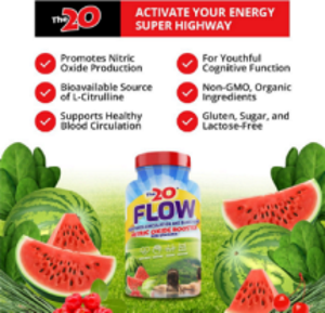 (These statements have not been evaluated by the Food and Drug Administration. This product is not intended to diagnose, treat, cure, or prevent any disease. Consult with your doctor for possible side effects.)