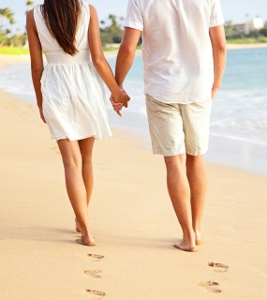 HowAboutWe.com is not your ordinary online dating service as you'll discover shortly.
You see, with most online dating services – like Chemistry.com or Plenty of Fish – you create a profile and then search for matches based on your matching criteria.
Your matching parameters for most dating services usually start with location, age, gender, and interests.
Some dating sites – like PerfectMatch.com and eHarmony – match according to specific questions asked on an extensive personality questionnaire.
And sometimes, online dating services can be quicker and easier to find someone rather than the traditional way of meeting men.
There's no need to get dressed up to go to a club or bar. And there's little expense – at least initially – since most sites allow free online profiles and some services are totally free for contacting other members.
HowAboutWe.com
HowAboutWe.com was started in 2010 and now has more than one million members.
Average user age is between 29-35 and 98% of users have at least a bachelor's degree. There have been more than 300,000 dates suggested on the site since it launched.
The service also has a twitter and Facebook presence as well as a blog to update members on dating advice and different topics.
HowAboutWe.com does something different when it comes to dating services.
And it's an interesting concept which makes it unique in the dating world – at least for the moment.
It starts out by having members suggest an activity that they can do with other members.
The emphasis is on great dating ideas and having fun on the dates.
And the whole purpose is to get members to meet offline and see if there is a match.
According to HowAboutWe.com's media director, Erin Scottberg, the "pick-a-date feature" is a wonderful way to get to know someone's personality rather than through the traditional online dating profile.
It's a great idea, isn't it?
After all, dating is all about getting to know the other person and seeing if you have things in common and whether there is chemistry.
And what better way to do that than to go on fun dates.
Members post date ideas and then other members indicate whether they like the idea. The more members who like the idea, the more popular it is.
If you like a dating idea, the member's profile looks interesting, and it's someone you'd like to meet and get to know better then it's a matter of contacting the member to arrange a date.
Some popular date ideas include…"How About We…write down a bunch of random questions, put them in a hat and get to know each other by pulling them out, one at a time."
And…"How About We…do a progressive dinner – appetizers, entrees and dessert each at a different place."
It's suggested that members of HowAboutWe.com post at least 3 profile photos to increase their chances of connecting with other members.
Although browsing the site is free, you will need to subscribe to the dating service if you want to contact other members you're interested in meeting.
How To Attract Men Table of Contents
What To Avoid Doing On The First Date | Internet Dating Scams | Best Online Dating Services
ELLE Magazine and HowAboutWe.com
ELLE Magazine has co-branded with HowAboutWe.com to offer the dating service to their members.
As you probably know, ELLE magazine is the number one fashion magazine brand in the world. In fact, this premier women's magazine identifies with women who are proactive and successful.
And that's what you need to be when you're looking for love or you're ready for love. You need to be proactive.
It's no use waiting around for Mr. Right to drop into your lap. Because that won't happen. Instead you have to get out and meet people and search online dating services for the right type of guy for you.
According to their press release in August 2013, ELLE dating members will also have exclusive access to a one-on-one matchmaking service.
This matchmaking service will be subscription based and will include among other things two dates a month, dating planning and feedback as well as consultation by phone from relationship expert, E. Jean Carroll.
AARP and HowAboutWe.com
AARP is a non-profit organization in the United States for men and women aged 50 and over. It offers many benefits to its large membership.
One of its newest benefits is online dating.
AARP has partnered with HowAboutWe.com to offer its members another way to meet potential partners and enjoy a wonderful, fun-filled relationship.
At the time of this writing, AARP members not only get a 7 day free trial but they also get a special discounted rate to the service.
Couples Portal Too
HowAboutWe.com isn't just for singles. It also has a couples portal.
It's similar to the singles site in that its purpose is to help couples enjoy exciting adventures together.
But chances are you're single and you're looking for dates.
And you probably want to know how to attract a man – a great guy – with whom you can have a wonderful relationship.
How To Attract Men
With HowAboutWe.com you contact men on the site and then you move to the offline world and go on dates.
But perhaps you want to meet guys offline because you're not into the online dating scene.
If you want to meet great guys offline then be sure to check out the Girl Gets Great Guy System.
It's specifically designed for women who want to meet guys in the real world instead of the virtual, online dating world.
It shows you where the great guys hang out. And it shows you how to attract them and catch them.
Best of all it shows you how to decide whether you've chosen your Mr. Right.
Click the following link to find out more about the Girl Gets Great Guy System