Dating Advice For Women – Signs A Guy (Secretly) Likes You
Sometimes you're not sure the guy who you think is cute and who you're interested in actually likes you. In that case, you start looking for obvious or tell-tale signs he likes you or he's into you.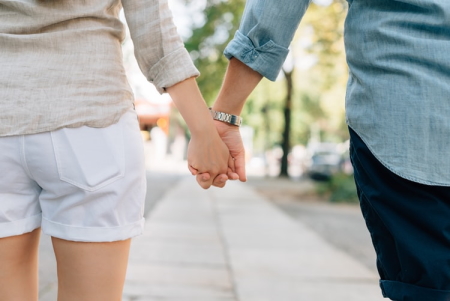 It quickly becomes the key question on your mind when you're interested in a guy – especially if you want to have a relationship with him.
Your mind goes into "relationship mode" where you analyze and interpret everything that revolves around him or involves him. You think back on conversations, gestures, text messages, phone calls, emails, Instagram or Facebook postings and likes, or other signals that show he could be interested in you.
He smiles at you – you interpret that to mean he likes you.
He talks to you – you interpret that to mean he's interested in you.
He looks at you across the room – you interpret that to mean he wants to get to know you better or is harboring feelings for you.
This is the usual dating "ritual" where two people are attracted to each other but they're shy or hesitant to make their feelings known because they're afraid they'll be rebuffed or rejected if the feelings aren't reciprocated.
In fact, these signs could be more than just being interested in a guy. They could be signs you're falling in love with him – even if you don't know him very well and haven't yet dated to any great extent (or at all).
Tell-Tale Signs A Guy Is Interested In You
Here are signs he's interested in you even though he doesn't come out and tell you…
1) He smiles at you a lot
2) He stares at you…and quickly looks away when you "catch" him staring
3) He tries to impress you
4) He always seems to be hanging out where you are
5) He flirts with you
6) He laughs and jokes with you
7) He gets jealous when you flirt with other guys
8) He asks your friends about you
9) He follows you around without trying to be obvious
10) He asks for your cell number
11) He wants you to add him as your friend on Facebook
12) He shows off to get you to notice him
13) He sneaks glances at you and turns away quickly when you look at him
14) He hangs out with your friends and makes a point of ignoring you
15) He "accidentally" bumps into you
16) His friends tease him when you're around (because they know he likes you)
17) He makes up reasons to be near you
18) He compliments your new hairstyle or new outfit
19) He teases you in a playful manner to make you smile or notice him
20) He gets to know your BFF so he can be around you
21) He tries to make you laugh
Other Signs A Guy Likes You
There are also other signs a guy might be interested in you that are more obvious, even though he hasn't come out and said he's interested in you or that he wants to date you:
22) He spends time with you and introduces you to his friends (and even his family). (You have to be careful you're not friend-zoned and he treats you as a "buddy" rather than as a romantic interest.)
23) He's not seeing anyone else and he's not in a relationship. (This is a good indication that he might be interested in a relationship especially if you show interest and there's mutual attraction.)
24) He sends you text messages (if he's asked for your cell number and you've given it to him).
25) He sends texts a lot and usually every day.
26) He responds to your text messages quickly.
27) He "ignores" you or acts as though he's not interested when you're around him. (This is counter-intuitive but it has the psychological effect of making you want him and desire him even more, if you're attracted to him.)
These are all signs if you're asking yourself, "How do I know a guy likes me?" or "How do I know a guy likes me back?" even if he's quiet or shy.
Of course, it can also depend on your age. If you and the guy you're interested in are young(er) you'll have to rely on the signs more because it's usually difficult to talk about feelings to each other. If you're both older, then there's more likelihood that you'll be more open and upfront about your feelings for each other.
Keep in mind, though, that these are simply signs a guy is interested in you. Until he comes out and tells you or he asks you out on dates, you really won't know for certain. He might, for example, be an outgoing guy who is friendly to everyone and who has no specific interest in you. That would be obvious if he is dating other women or if he has a girlfriend.
Beware, also, that he might be showing interest in you because he's just broken up with his girlfriend, in which case you could become his "rebound" girlfriend where the relationship doesn't last. In fact, it may be seen that you're mate poaching and stealing him from his girlfriend or you were the cause of their breakup.
It shouldn't always be signs that you look for. You can also play an active role in getting his attention and getting to know him to see if he's boyfriend material. You do that with flirting techniques.
How To Become An Exciting And Talented Lover To The Guy Who Likes You
If he likes you and you start dating him and get into a relationship, chances are you'll have sex at some point. For most couples, that's a normal transition in a relationship as you get to know each other.
If you're inexperienced at sex or you want to develop your sexual skills even further then How To Drive Your Man Wild In Bed can help you.
You'll discover sex moves like….
>> 2 shocking pleasure zones that give him sheet-grabbing pleasure. (Warning: He's embarrassed to tell you about them because they immediately put him under your feminine spell.) (Pages 110 and 273.)
>> HOTTER FOREPLAY. Thrill every nook and cranny of his body with these 9 "bad girl moves" that make good girls blush. (Page 347.)
>> Looking for complex, complicated, hard-to-master Kama Sutra sex positions with fancy names? Phffffft! Forget about them. There's no need to twist yourself into a pretzel or pretend you're a wishbone to experience peak pleasure. Instead, discover 12 of the hottest and most intensely satisfying sex positions that give maximum exhilaration without having to strain muscles or hurt your back. PLUS, 2 "acrobatic" ones reserved for sexually adventurous couples only. (Starts on page 150.)
>> Turn up the raw, sexual heat in the bedroom. 4 top rated Fun Pleasure Playthings for couples. Buy them and try them for bigger, better, badder thrills. (Page 60.)
>> 5 wickedly-wild "sex play" techniques that cause him to totally surrender to your playful seductiveness. You sexy, naughty girl, you! (Starts on page 202.)
>> The Ultimate Pleasure Enhancer reserved exclusively for the adventurous man. Shock him. Delight him. WOW him. Take him to explosive heights with this erotic "mouth and finger" move. (See page 66.)
>> And much, much more to excite and thrill your man including Sexy Dirty Talk for the bedroom and sexting, my exclusive Yes/No/Maybe Sex Checklist, with more than 80 sizzling hot, sexy, and tastefully taboo sex topics, and my MEGA brain download of Relationship Tips and Advice to capture your man's heart and elevate your lovemaking to new heights.
If giving your man greater sexual pleasure is important to you, then click the following link for How To Drive Your Man Wild In Bed.