Why Every Couple Can Benefit From Using A Yes/No/Maybe Checklist 
If you've ever wondered what your partner likes to do in bed, then a Yes/No/Maybe Checklist with sex questions can be very revealing and enlightening. As well, a Yes/No/Maybe Checklist helps you and your partner discover things you both like or would like to explore together.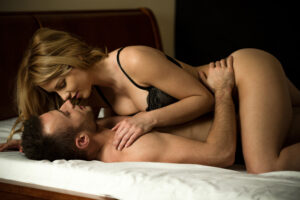 Imagine being with a new partner and not knowing each other's sexual likes and dislikes.
One partner does something the other partner doesn't like or enjoy. It can lead to lack of trust, awkwardness, and misunderstandings and what could have been a wonderful and exciting experience becomes a turn-off or disaster for one of you or both of you.
Too often, we don't ask our partner questions about sex because we're embarrassed or we don't know what questions to ask. Sex isn't always an easy conversation to have with your partner because it makes us vulnerable when we reveal our deepest feelings and sexual desires and wants.
Advantages Of Using A Yes/No/Maybe Checklist
A Yes/No/Maybe Checklist is one of the most underutilized and underrated tools available to virtually every couple. It's such a simple, yet very powerful tool, many couples don't know about that can enhance their love life.
You see, you don't always know what your partner likes. You don't always know what your partner doesn't like. You don't know what turns them on. You don't know what turns them off. You don't know how adventurous they are. You don't know what satisfies them. As well, your partner doesn't necessarily know your sexual preferences, hidden desires, and wants.
This type of sex questionnaire isn't just for people who have "hooked up" from a dating site or who meet at a bar or at a party and are having sex for the first time.
It can also be used by – and is particularly valuable – to couples in new and blossoming – as well as long term – relationships to find out more about their partner's preferences and what areas could be explored to bring more excitement and adventure to their sex life.
Some couples who are married and who have been together for years can still find this type of questionnaire helpful as it delves deeper into sexual preferences and opens up new areas to explore.
Usually, this type of questionnaire is about sex acts, preferences, desires, and needs. That's why asking sex questions can also help you discover differences and similarities in wants, desires, sex drives, and expectations.
For example, a woman might desire or be turned on by a man who is well-versed in oral sex or foreplay. Or a man might desire or be turned on by a woman who is well-groomed all over her body. A woman might need her man to make love to her while her partner may have learned his skills from porn and thinks rough play is what every woman wants.
A sex questionnaire can also highlight different libidos, different frequencies of sex, different expectations, different encounters with previous partners, and different levels of sexual experience.
A male partner might have erectile dysfunction which affects his performance in the bedroom. It may even affect his enthusiasm and desire for having sex in the relationship.
(If you or your man do have different libidos or your man experiences erectile dysfunction, check out this supplement for men and women.) (aff)
One partner may have had many different partners while the other has only had one or two. One partner might not know what he or she wants because of their inexperience while the other partner might want to be adventurous and try new things.
A Yes/No/Maybe Checklist Makes It Easier To Talk About Sex
For many couples, it's difficult to talk to their partner about sex and to ask sex questions, even if they've been together a long time. They feel embarrassed or ashamed or guilty.
It's particularly difficult to ask intimate questions about sex when you're with a new partner. Sometimes with a new partner there's little discussion beyond, "What do you like?"
And sometimes, a partner won't know what they like or what really turns them on because they're sexually inexperienced or they're not sex positive or they're still discovering their sexuality.
Perhaps you want to change something about your sex life. You want to add some spice and fun to your relationship. Or there's something your partner does that you don't like or enjoy or that goes against your beliefs.
A Yes/No/Maybe Checklist will help you talk to your partner about sex. Best of all, you don't have to think of questions to ask – they're already written out for you.
If you and your partner answer "Yes" then chances are it's something you both enjoy or want to explore further.
When you answer "No" it indicates it's something you don't like or want to do and establishes a boundary which your partner is not allowed to cross during sex. For example, some people don't like anal play and will never do it. That's an area that's off the table during sex play and it's a boundary that must be respected in order to build trust with a partner.
When you answer "Maybe" it's something that you may or may not have considered and you might be open to exploring.
This type of sex questionnaire establishes sexual boundaries between partners. It might mean not exploring certain sex acts. It might also mean having a "safe" word if one partner is agreeable to exploring something but finds he/she doesn't like it and doesn't want to continue.
These answers show open communication between partners, and in some cases, consent, although consent should not be automatically inferred just because a partner answers "Yes" or "Maybe."
A partner could, for example, say they're open to or enjoy giving and receiving oral sex but there may be times when they're not in the mood or not feeling aroused and don't want to have sex at all.
How To Talk To Your Partner About Sex: What Sex Questions To Ask
There are a wide variety of Yes/No/Maybe Checklists for sex. Some ask "vanilla" style questions. Others are about BDSM and kink.
Most will ask about a particular sex act and whether or not you're interested in doing it.
Others can be about feelings or emotions or the type of "language" that partners prefer to use and words they consider to be arousing or seductive or stimulating.
Some questions will be about grooming and grooming preferences – whether you like your partner to be bare or groomed, for example, or whether you prefer they bathe before having sex.
Here is a list of some areas and topics a Yes/No/Maybe Checklist might ask:
Anal Play (Giving and Receiving)
BDSM (Bondage, Domination, Submission, Masochism)
Blowjob
Breast Play
Cock Rings
Cybersex
Deprivation (Going over the edge, sensory)
Dirty Talk
Double Penetration
Erotic Massage
Erotica (Reading)
Exhibitionism
Fantasies (Acting out)
Fingering (Anal and vaginal)
Grooming
Group Sex or Multiple or Different Partners
Hair Pulling
Hand Job
Intercourse (Anal or vaginal)
Kissing (Erotic, French)
Mutual Masturbation
Nipple Play
Open Relationship
Oral Sex (Blow jobs, licking, tasting)
Orgies
Outercourse
Period Sex
Phone or Instant Messenger or Skype Sex
Porn
Prostate Massage (Giving and receiving)
Role Play
Rough Play
Sensation Toys (E-stim)
Sex Clubs
Sex in Public
Self Pleasuring (Solo sex)
Sex Positions (Cowgirl, man-from-behind, missionary, side-by-side, "69")
Sex Toys (Anal toys, dildos, prostate massagers, vibrators)
Spanking
Squirting
Swinging
Threesomes
Voyeurism
How To Drive Your Man Wild In Bed offers a 29-page, comprehensive Yes/No/Maybe Checklist in pdf format as a free bonus and will help women understand what men crave and desire sexually.
It has more than 80 sizzling hot, sexy, and tastefully taboo topics ranging from "A to Z."
Most importantly you and your partner will both know exactly what to expect – or experiment with – during loveplay so that there's never any doubt about what's okay and what's definitely off limits.
Sample Sex Questions From The Yes/No/Maybe Checklist In How To Drive Your Man Wild In Bed
Here's a very small sample of NSFW sex questions you'll discover in one of the free bonuses (in pdf format) that is included with How To Drive Your Man Wild In Bed:
What turns you off?
What turns you on?
What parts/areas of your body or sexual acts are off limits?
Where do you like to be touched?
Do you like anal fingering/pegging/anal play?
Do you like to give/receive blowjobs? handjobs? rimjobs?
Do you like dirty talk/romantic talk/seductive talk?
Do you like double penetration?
Do you like BDSM/kink?
Do you like oral sex?
Do you like romantic lovemaking with lots of foreplay?
Do you like rough play? (Against Wall/Hair Pulling/Pounding/Tossing Around)
Do you like sexting?
Do you like to be loud or quiet when having sex?
Do you like your partner to be loud or quiet when having sex?
Do you like your partner to be bare/bushy/groomed/natural/shaved down below?
Do you have any kinks or sexual fetishes? (If so, what are they?)
Do you want to act out any fetishes? Which ones?
Do you masturbate? (If so, how often?)
Do you like to use sex toys? Which ones?
Do you prefer FWB/monogamy/open relationship/polyamory?
Do you prefer being on top or being on the bottom?
Do you watch porn? (If so, how often and what type of porn?)
How often do you cum during sex?
How often do you like to have or need to have sex?
What body parts on your partner do you find to be the most attractive?
Do you like to use sex toys? What are your favorite sex toys?
What are your top two favorite sexual positions?
Which sexual positions/techniques/moves make you aroused/cum?
What are your sexual fantasies?
Sex Questions Are Just One Part Of My Exclusive Yes/No/Maybe Checklist
My exclusive and erotically creative "Yes/No/Maybe" Sex Checklist in How To Drive Your Man Wild In Bed doesn't stop at 80 sizzling hot, sexy, and tastefully taboo topics.
Instead, it's been expanded to explore and dive in deeper to understand sexual likes, dislikes, and preferences you and your man have including:
>> Favorite Positions For Ultimate Pleasure (Naughty girl and bad girl sex positions that bring the greatest enjoyment, exhilaration, pleasure, and satisfaction to both you and your man.)
>> Role Playing For More Excitement And Fun (Add more sizzle and excitement as you and your man spice things up with 37 different roles you can play to heighten the lust and desire for each other.)
>> Secret Sex Fantasies For Bigger Thrills (Explore HOT new areas of enjoyment when you and your man reveal deep, dark secrets about fantasies you'd both like to try.)
>> Biggest Turn-ons (Erotic Hot Spots. Shocking Secret Desires. Discover what it takes to turn your man on and rocket him to the ultimate heights of pleasure. Be prepared to be amazed by his secret dirty thoughts that he's never revealed to you before!)
>> Hot And Erotic Things Many Men Crave (But Are Afraid To Ask For) (From plain and simple to naughty and primal, this 20-item list is your secret gateway to fulfilling his deepest, darkest sexual desires and fantasies.)
How To Use A Yes/No/Maybe Checklist For Maximum Benefit
A sex questionnaire is very easy to work with because you don't have to create questions to ask your partner.
1.  Print the checklist out (one for each of you or one for both of you) so you and your partner can use it for discussion.
2. Complete the questions.
3. Answer truthfully. Be honest. You don't want to say something that's not true because you're afraid to offend your partner.
On the other hand, you're under no obligation to reveal something deeply personal if you don't want to, especially if you're in a new relationship and don't know your partner well or you don't know if the relationship will last.
Sometimes even couples who have been married for years discover things about their partner's sexual preferences that they didn't know about.
Have an understanding with your partner that if you do reveal your deepest secrets you won't be judged. There's nothing worse than being truthful and then finding that your partner is turned off and loses their attraction for you. For example, you might be into "back door" play and your partner isn't and thinks it's gross.
Talking about sex is baring your soul and makes you vulnerable. It also takes a mature partner to keep their cool and not judge when intimate details are revealed, especially if they're about fantasies or fetishes or kinks.
If you don't like something or it's a hard "NO" then say so. After all, this is about your sexual pleasure and enjoyment just as much as your partner's.
4. Discuss your answers. Say what you like, don't like, or what you're willing to try. Set boundaries. For example, if you've never tried anal play but want to, discuss how you and your partner will approach it to make it a pleasant experience for both of you.
5. Establish a safe word or signal that can be used if something causes pain or freaks you out and you have to stop.
6. Look for fun things to do. They could be massage. They could be using different toys. They could be different positions. They could involve another couple or multiple couples. They could be having sex in different locations or at different times of the day.
7. Don't judge your partner. Instead, accept your partner's desires and wants and fantasies, even if you can't fulfill them. This type of questionnaire can make you and your partner feel vulnerable, especially when revealing likes, dislikes, preferences, and fantasies.
Sex and your beliefs about sex are deeply personal and everyone is different. He's not weird if he doesn't have a lot of experience and doesn't know what to do. You're not weird if you enjoy romantic lovemaking instead of rough play. He's not weird if he likes your scent. You're not weird if you like to be natural and you don't groom. He's not weird if he has a foot fetish. You're not weird if you have a high libido.
8. No Yes/No/Maybe Checklist is all-inclusive or complete because there can be so many questions that can be asked. There are sure to be things that are not included. So don't be afraid to add additional items if they cover your particular circumstances.
A Yes/No/Maybe Checklist isn't meant to be a static list that never changes. Instead, it should be evolving over time because sexual tastes, desires, wants, expectations, and beliefs can often change over time.
Re-visit the questions with your partner periodically to see if there are changes or new areas to explore to make your sex life more exciting instead of boring or stale.
How To Sexually Please And Drive Your Man Wild In Bed
Of course, there's more to sex than a Yes/No/Maybe Checklist even though it's a very good starting point.
Truly satisfying and exhilarating sex is all about knowing sexual skills and techniques that bring pleasure to both you and your man.
These are the type of techniques that leave your man desiring you and craving for more.
If you're a woman who wants to please her man in the bedroom and you want to discover secret techniques used by the the world's most skillful and talented lovers then click the following link for How To Drive Your Man Wild In Bed that includes my exclusive Yes/No/Maybe Checklist.