Talking Dirty To Your Man:

The Powerful Aphrodisiac That Unleashes
Your Man's Lust and Desire For You
And Transforms You Into His Sexual Goddess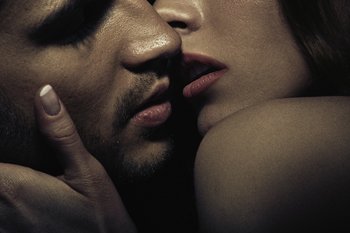 What will you do when your man says to you, "Talk dirty to me?"
I can remember the moment vividly.
It still haunts me to this day.
My boyfriend and I were making love.
It was hot, passionate, exhilarating.
I could feel those familiar waves building deep inside me as he worked his magic on me.
I was getting closer and closer.
All of a sudden he whispered in my ear, "Talk dirty to me."
I almost froze when he said those four simple words.
Don't get me wrong.
I'm no prude when it comes to sex.
I know what my man likes.
I know how to seduce him and arouse him.
But dirty talk?
I'd never done sexy talk like that before in my life.
I didn't know what to say.
In fact, I was dumbfounded.
Tongue-tied.
Confused.
I mumbled, "You feel so good."
"What else?" he asked.
"Ummm. I don't know," I said.
He chuckled and said, "It's okay. You don't have to talk dirty to me."
I didn't say anything, but I felt as though I had let him down.
I Didn't Have A Clue
What To Say!
I know it sounded lame.
But what do you say to turn your man on?
Here was the man I loved with all of my heart.
I'd do almost anything to please him.
But when it came to dirty talk and talking dirty to my man I was like an innocent newborn baby.
That's when I knew I had to do something about it.
I wanted to please him.
He didn't say another word about it but I just knew he was disappointed.
We already had a great sex life.
Lots of variety.
Different positions.
Touching.
Caressing.
Licking.
Kissing.
It was nothing short of thrilling.
But maybe something WAS missing and I just never knew it before.
I always thought he was satisfied with our sex life.
But that night he revealed a sexual fantasy – a sexual desire – that I'd never known about before.
My man is a wonderful lover.
Skilled.
Loving.
Tender.
Assertive.
I couldn't ask for a better lover.
But for once, I was stunned and confused when he asked me to talk dirty.
Talk dirty?!?
"What does he mean, talk dirty?" I thought to myself.
I felt I had let him down.
I had always considered myself a good lover.
Attentive.
Enthusiastic.
Vocal.
But sexy dirty talk?
That was a new one on me.
Truthfully, I love sex.
There's nothing quite like that bond you have when you're intimate with the man you love.
The closeness.
The intimacy.
The safe feeling.
And I also love pleasing my man.
If you're like me, you know your way around your man's body.
You know where to touch him to get him hot and bothered.
But have you ever thought that he might have a sexual fantasy – a sexual desire – that he secretly wishes you'd act out for him, but he's afraid to ask?
Thinking back it suddenly dawned on me he had used dirty talk on me and I never realized it.
It wasn't anything crude or vulgar.
But whenever he'd used erotic dirty talk it gave me an extra thrill.
The thrill of knowing that he wanted me.
That he desired me.
That he lusted after me.
Now it was my chance to turn the tables and show him how I felt about him.
I wanted to satisfy his sexual desire even though our sex life isn't boring by any means.
And while my boyfriend didn't bring up the topic again, I knew that adding dirty talk to our lovemaking would thrill him.
I was more embarrassed about not knowing what to say than actually talking dirty.
Talking naughty is so intimate.
Raw.
Provocative.
Sexy.
Dirty Talk:
The Secret "Love Code" That
Triggers Your Man's Arousal Instincts
And Drives Him Wild In Bed
As I cuddled beside him after our lovemaking, I had this uneasy feeling.
In fact, a jolt of fear hit me in the pit of my stomach as I suddenly realized something.
What if I wasn't satisfying him sexually and he wasn't saying anything?
It bothered me that I couldn't satisfy my man the way he wanted to be satisfied.
What if he was losing interest in me because I couldn't please him in bed?
Let me tell you, finding a good man who is also a good lover isn't easy.
I don't know about you but I want my man to adore me.
I want him to have eyes only for me.
When he's frisky and in the mood I want to make sure he's thinking about me, not fantasizing about being with some other woman who turns him on with her sexy words.
I'm sure you're the same way.
You want your man to adore you and have eyes – and thoughts – only for you.
And what better way to do that that satisfy one of his sexual fantasies….sexy, erotic, dirty talk.
Ask any skilled lover and they'll tell you that the way to a man's heart is through satisfying his sexual appetite.
I can tell you that I don't want to lose my man to another woman or leave him sexually unfulfilled just because I don't know how to totally satisfy him in bed.
You see, men aren't just visual.
A woman's naked body certainly turns a man on.
But men also like to hear our sounds of passion.
And while my boyfriend liked to see me naked, he also liked to hear me gasp, groan, moan, and cry out.
When he asked me to talk dirty to him, my man was telling me in no uncertain terms what aroused him…what turned him on.
I knew that whispering a few erotic and sexy words in his ear would make him see me in a new light – hotter, wilder, sexier.
What man doesn't want his woman to be hot, wild, and sexy?
I was determined to surprise him and thrill him.
Next time I wasn't going to wait for him to ask me to talk dirty.
I was going to whisper in his ear naughty things that turned him on.
Have You Ever Experienced This?
Perhaps you've experienced the same thing.
You're not quite sure if you're pleasing him enough in bed.
There's that lingering doubt in the back of your mind.
Maybe there's more you can do.
Or he's never told you that his secret fantasy is to hear you talk dirty to him.
Or maybe your lovemaking is getting a little too predictable and boring and needs to be spiced up.
The beauty of dirty talk and whispering erotic words in his ear is that you can be as seductive or as sexy as you want to be.
You don't even have to touch him to turn him on!
Sexy words don't have to be crude or vulgar to turn your man on.
It's really up to you and your man what you say to arouse each other.
In fact, if you want seductive dirty talk then check out Seductive Erotic Whisperings – 40 Steamy Erotic Talk Phrases that "set the mood" for things to come – in How To Inspire Your Man To Love, Cherish, Appreciate and Adore You. (opens in a new window when you click on the link)
Dirty talk in bed isn't just about telling him what he has to do to turn you on.
It's also telling him how he makes you feel.
And…
There's Nothing Sweeter To a Man 
Than Knowing He's Admired
As a Skilled Lover…
…and it's as easy as talking dirty to your man.
All he has to know is what effect he's having on you.
How he's making you feel.
How you're reacting to what he's doing.
What you think of him as a lover.
What you think of him as a man – your man.
And it's so easy when you whisper sexy and erotic words.
Trigger His Mental
Arousal Spot
When you trigger his arousal spot with erotic sex talk….look out.
When you say just the right erotic words, you'll be in for the time of your life with…
Hot…
Passionate…
Steamy…
Mind blowing…
Sex!
Transform Yourself Into
His Love Goddess With
Sexy Words That Arouse Him
Dirty talk or erotic sex talk is like a powerful, spell binding aphrodisiac that makes your man's heart pound with desire.
A few simple sexy and stimulating phrases and words unleash the natural animal attraction he has for you.
> If you want to get closer to your man…
> If you want him to fantasize about you when you're apart…
> If you want him to remember how much you turn him on…
> If you want to bring more hot passion to your lovemaking…
> If you want to bring more thrilling excitement to your sex life…
…then take a look at the Language of Desire For Women (affiliate) – the ultimate guide to Erotic Sex Talk for lovers.
GirlGetsGreatGuy.com – the site that gives dating advice to women and shows them how to find their Mr. Right – wishes to thank photographer Konradbak for the beautiful photo used in this article. Image credit: Two lovers kissing image courtesy of Konradbak at depositphotos.com. The above narrative is a fictional account but the product is real and very popular.