Signs He Loves You 
Although a man might not say it – or might not say it very often – there are obvious signs he loves you, or at the very least is falling in love with you.
I covered signs he's in love with you before but here are additional signs he loves you.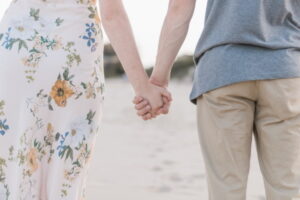 1. He Wants To Please You And Make You Happy
Men usually want to make their partner happy. Trouble is, they don't always know how to do that.
Sometimes men will show their love and affection through their actions rather than through words.
If, for example, he doesn't text you back then that's okay. It doesn't mean – and it's not a sign – that he doesn't love you or that he's losing interest in you.
We all like to hear, "I love you," but some men aren't that way for whatever reason.
That doesn't mean he's a bad person or he doesn't love you.
That's just the way he is and he has other ways of showing his love for you.
Look for what he does for you – the actions that show he loves you.
2. He's Perceptive About Your Feelings And Emotions
He sees you from a different perspective. It shows he cares. He knows when you're down or depressed even when you say you're fine. He knows your moods, your eccentricities.
3. He Respects Your Boundaries
If you have boundaries about relationships, beliefs, and sex, he respects them. He doesn't force things onto you or make you feel bad about having boundaries.
4. He Shows His Love And Affection By The Way He Touches You
That long, deep kiss. On your lips. On your neck.
That small touch on your back.
The hand holding.
The hugs.
Those big, strong arms wrapped around you.
They're all signs of his affection and love for you.
He also touches you mentally and emotionally. He does things that are sweet and touching,
They're all signs of his love and affection for you.
5. He Doesn't Care (Because He Accepts You The Way You Are)
It seems odd to think that if he doesn't care it's a sign he's in love with you. But "he doesn't care" has a special meaning here. It means he accepts you the way you are.
He doesn't care that you've put on a little weight or that you "feel fat."
He doesn't care if you're not in the mood for sex sometimes.
He accepts you no matter what.
6. He Knows Your Love Language
The 5 Love Languages® by Dr. Gary Chapman, Ph.D., are Words of Affirmation, Acts of Service, Receiving Gifts, Quality Time, and Physical Touch.
Each of us feels loved when our partner shows their love through a specific Love Language. Some of us need to hear, "I love you." Some of us need our partner to show their love through things they do for us.
And some of us need to be touched.
We need to be kissed and caressed and made love to.
Your man knows your Love Language and uses it to show he's in love with you and loves you.
7. He Knows Your Sex Language
Dr. Douglas Weiss, Ph.D., identifies 5 Sex Languages: Fun, Desire, Pleasure, Patience, Acceptance/Celebration.
If a man loves you, he won't pressure you to have sex or to do things that you don't want to do.
You're tired after a long day at work and you don't want to have sex or you're not in the mood.
He wants to try anal play but you don't want to experiment because you're not that adventurous.
Many men use "blue balls" as an excuse to make their partner feel guilty about not having sex or as a way to demand sex when their partner isn't in the mood, or they're not getting enough sex, or they're not satisfied with the sex.
But your man isn't like that.
He likes to have fun when you're having sex.
Or he expresses his desire for you and makes you feel appreciated and wanted.
Or he's patient with you when you're feeling sore or you don't feel beautiful.
Some of us like to give pleasure during sex. It turns us on to know we're pleasing our man and satisfying him.
You, for example, might like to give your man pleasure (see my treasury of naughty sex ideas in "How To Drive Your Man Wild In Bed") and want to know more ways to spice things up in the bedroom.
Bonus Sign He Loves You
8. He Keeps His Word
He's a man of his word. If he says he will do something, he does it. He doesn't make excuses. He tries to pull out all of the stops to do what he promises he will do.
Of these signs he's in love with you, how does your boyfriend, lover, or husband rate?
Hopefully you have a better understanding about the signs a man is in love with you.
He Loves You But Will You Be Able To Keep Him Or Will Another Woman Steal Him Away?
Just because he's in love with you right now doesn't mean you'll remain together.
A relationship changes and evolves over time.
Your man, for example, might start pulling way or he might begin to have a wandering eye.
Now that you recognize the signs that he's in love with you, you might want that to progress further to a proposal and engagement.
When a man starts talking about a future with you and includes you in his future, it's a good sign – as long as he's not just saying that to lead you on. And some men say that very early on in the infatuation stage of a relationship before you've both had a chance to get to know each other.
But, if you're in an established and solid relationship and he talks about a future, then there's a greater chance he'll get down on bended knee when he thinks the time is right.
How To Keep Him
There is a way to improve your chances of being together as a couple (or as a married couple) and not suffering from a broken heart.
And that's with knowing the secrets to keeping your man and not letting another woman steal him from you.
With these secrets by your side you improve your chances of having him see you in his life and wanting you as a life partner.
How To Give Him MIND. BLOWING. SEX.
Of course, sex is usually an important part of a relationship. And the more satisfied your man is with his sex life, the happier he'll be and the less likely he will be inclined to stray into the arms of another woman.
That's why I created a treasury of "naughty girl" sex secrets to give your man MIND. BLOWING. SEX.
So be sure to discover the secrets to keeping your man and the treasury of "naughty girl" sex secrets for mind blowing sex (including sexy dirty talk and my exclusive Yes/No/Maybe Sex Checklist) now that you know the signs he's in love with you.
(TD;LR) Signs He Loves You
1. He Wants To Please You And Make You Happy
2. He's Perceptive About Your Feelings And Emotions
3. He Respects Your Boundaries
4. He Shows His Love And Affection By The Way He Touches You
5. He Doesn't Care (Because He Accepts You The Way You Are)
6. He Knows Your Love Language
7. He Knows Your Sex Language
8. He Keeps His Word (BONUS sign he's in love with you)